Trump Turnberry, Ayrshire: Im drooling with the wrong kind of anticipation restaurant review
1 year, 7 months ago
I cant hate the whole glittery, meretricious shebang, because the staff are lovely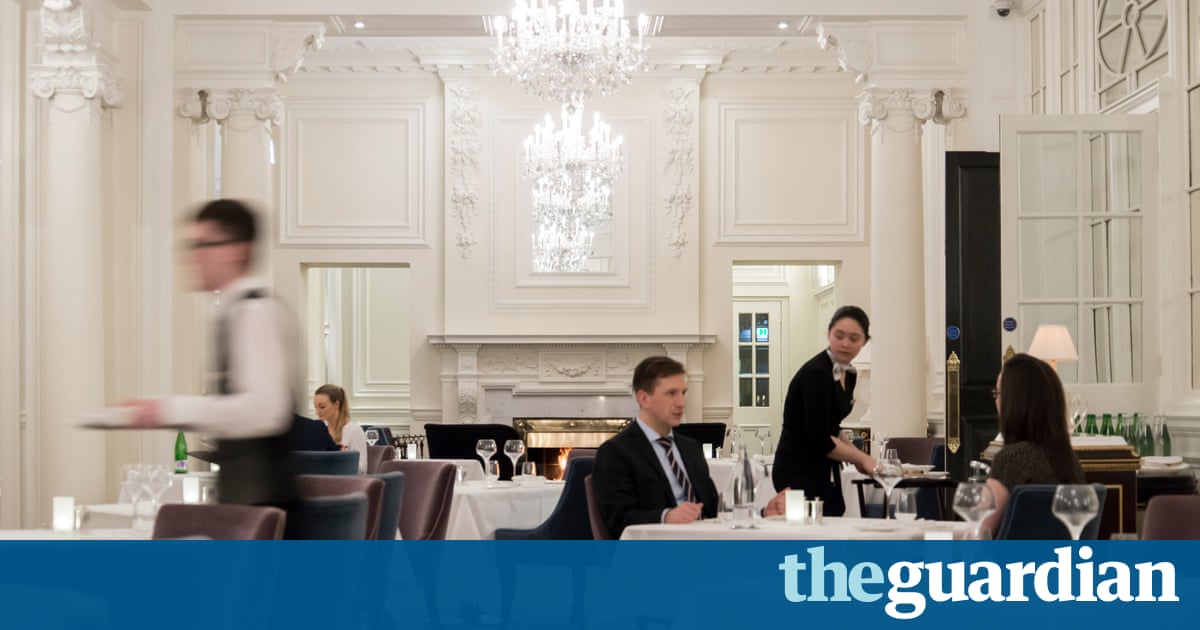 Obviously I go to Trump Turnberry with prejudices fully erect. Of all the lies the orange plank spouts on an hourly basis, I particularly enjoyed his The people of Scotland love Trump International Golf Links and I have a 93% approval rating in Scotland tweets. Newsflash: there is nothing the people of Scotland love about you, #presidentbawbag. Nor me: Im claws unleashed, drooling with the wrong kind of anticipation.
And, yes, theres a lot to loathe. I dislike being told, on phoning for the hotels preferred taxi number to pick us up from Girvan, to grab one from the taxi rank. Women at the otherwise deserted, sleet-strafed station laugh at us: Haw, naw. Theres no a rank till Ayr. Pointing this out to hotel reception, were told: A lot of people take helicopters three grand from Prestwick airport. I dislike being hassled to sign up for a Starwood Hotels Preferred Guest account. And I hate that the hotel celebrates Scottishness in a way only a tourist can love: charming doormen waft you indoors in full kilted regalia, complete with soaring feathers in bonnets; heres the Scottish Tartans Authority on how to wear the kilt: Festooning yourself with sword, dirk, targe, powder horn and a cardinal sin feathers in your bonnet, are not the way to go. Me to cheery, costumed chap: Do you like wearing that? No, Im bloody freezing. Theres even a poor piper compelled to skirl into the kitchen a hapless crew eating at that horribly entitled concept, the chefs table: eminently detestable.
Were in The Crystal Ballroom, not, as reserved, Il Tramonto at 1906, because its fully booked. Its not: I sneak in, and apart from a private dining room at the end, its empty. Surprise: a lie! So, were on the fringes of a huge, semi-deserted function suite that smells faintly of mutton fat, all chandeliers (constellations of the things: Two-hundred grand each! beams a staff member), retina-jangling carpets and spindly, gold banqueting chairs (the photos of the more sober Il Tramonto). Servers wear white gloves and brandish cloches like its 1983. And, yes, I hate some of the food: a silly deep-fried egg that manages to have solid yolk and mucousy white, in a gummy pool of 36 month-aged parmesan velout, like liquidised tinned macaroni cheese, with uninspiring summer truffles (seasonal, eh?) that taste of nowt and crisped two-year aged Tuscany ham: a salty picked scab. Or a hunk of tragically overcooked halibut on what seems to be microwaved hummus plus swamp of exhausted spinach.
But, try as I might, I cant hate the whole glittery, meretricious shebang, because the staff are lovely. Steadfastly, and with unswerving cheer, they refuse to be drawn by leading questions. Eric is who we deal with mostly. Hes a lovely chap, says the young chef who flambs our crepes suzette on his gas-fired trolley, playing to our cameras with more fire, more Grand Marnier, and spooning over the silkiest, freshly made vanilla ice-cream. These are gorgeous, a quickstep beyond old-fashioned to Proustian. I like smoked ham bound with goose liver into a silky, meaty hummock, with tendrils of celeriac rmoulade and sweet golden sultanas. And an almost-rustic dish of slow-cooked beef cheek with sturdy mash and a rich reduction of meat juices scented with rosemary. Devastating.
Theres lovely Roxanne from Malta, wreathed in smiles despite having done several split shifts in a row, dinner to breakfast. And the cool gal in the bar who delivers martinis in horribly overdesigned glasses while whispering, Were not allowed to talk politics. And particular love for Sumith, who comes out with my favourite sommelier line ever I see madam is thoroughly enjoying her wine and who shows us round the kitchen where the team blast stainless-steel surfaces to pristine cleanliness and opens up the newly built Donald J Trump Ballroom so we can gawp at a Milky Way of chandeliers and a B&Qs-worth of swirly carpet.
With events in the White House taking place at warp speed, who knows what will have happened to Scrotus between time of writing and publication? Perhaps a milk-of-human-kindness epiphany; perhaps hell erupt into a shower of maggotty orange lard, accidentally suffocating Mike Pence. Whatever: the bucks will keep raining in, even here, where golfers cower under Scottish skies. Its never going to be my kind of place no restaurant even tangentially operated by someone who takes his steak well done with catsup could be. But I can imagine many being dazzled by its ostentatious opulence, its bottles of Trump wine, the munificence of its carpeting. Even Im thawed by its people: despite the crassness of their boss, they are fundamentally good.
Trump Turnberry Turnberry, Ayrshire, Scotland, 0165 533 1000. Open all week, 7-10pm. About 65 a head for three courses, plus drinks and service.
Food 6/10
Atmosphere 6/10
Value for money 6/10 (see what I did there?)
Read more: https://www.theguardian.com/lifeandstyle/2017/mar/17/trump-turnberry-scotland-restaurant-review-marina-oloughlin