Late-night hosts on Trump's terrible week: 'Are you sick of winning yet?'
1 year, 7 months ago
Comics, including Seth Meyers and Jimmy Fallon, discussed the latest setback to the presidents travel ban and his much-criticized budget cuts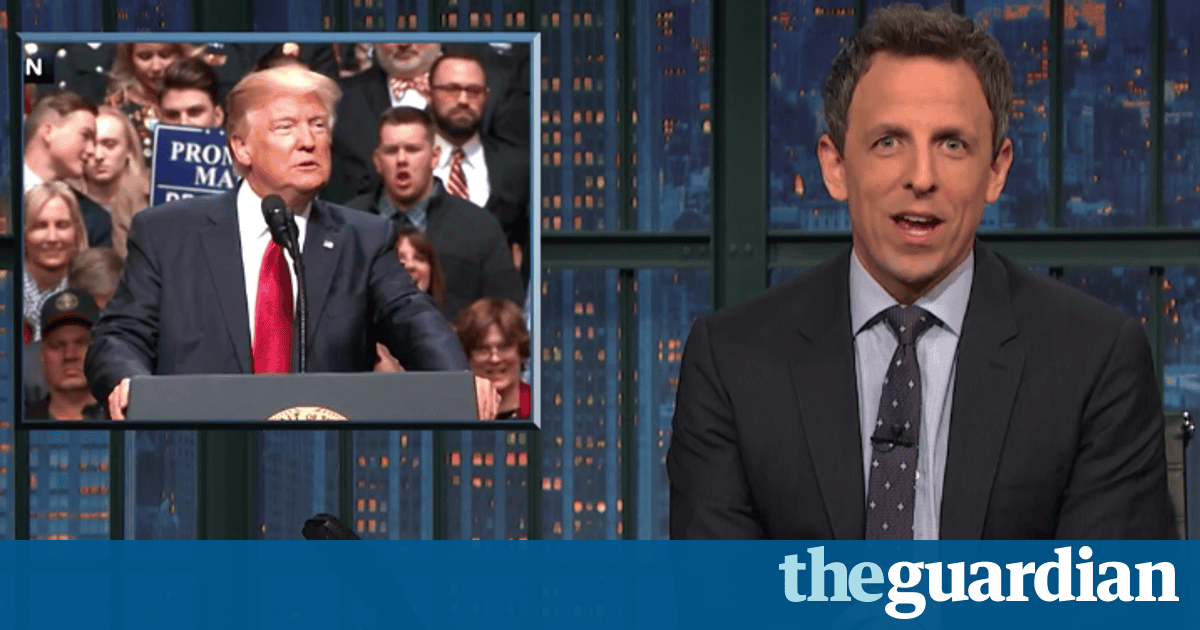 Late-night hosts discussed a disastrous week for the Trump administration from his thwarted attempt at another travel ban to his healthcare bill problems.
On Late Night with Seth Meyers, the host ridiculed the president for his latest round of setbacks, reminding audiences of a rally last year when he boasted about all of the winning that would happen once he got to the White House. Are you sick of winning yet? he said. Because if you are, youd better get to the doctor before Trump takes away your healthcare.
At his latest rally he claimed that hes done more in his first 50 days in office than any president before him. Trump has done more in office the way a toddler helps out in the kitchen, he said. He may be trying, but by the time he leaves theres snot on the fridge and a shoe in the dishwasher.
Meyers then played an incoherent answer from Trump concerning the negative press hes been receiving. Youre so paranoid about wiretapping that you talk like a mafia don, afraid the feds are listening, Meyers joked.
He commented: Trump keeps losing and he doesnt seem to understand why he keeps losing.
Trump has also signaled that he believes the Affordable Care Act was deliberately designed to fail so it would make his life difficult. You think Obama intentionally designed his signature piece of legislation to fall apart in six years? he said. Its a healthcare bill, not a Kia.
Meyers then discussed the proposed budget cuts that would affect the Meals on Wheels program. How dead inside do you have to be to not want old people to get food? he said. Your heart is so small, it makes your tiny hands look like catcher mitts.
Meyers added: Your key demographics were old people and older people. They believed you when you said you cared about them.
On The Tonight Show, Jimmy Fallon spoke about Trumps next steps with his travel ban, as he claims he will take it to the supreme court. And if they block it, he says hes going to bring it to the Justice League, he said.
After Irish prime minister Enda Kenny visited Trump and left him with a bowl of shamrocks, Fallon joked that Trump would have asked: Where are the little marshmallows?
Trump also visited the house of former president Andrew Jackson. Trump may have been confused because he also praised Andrews brothers Michael, Jermaine, Randy and Tito, he said.
On Jimmy Kimmel Live!, the host brought up the potential budget cuts and ridiculed the title.
The title of the budget is America first, a budget blueprint to Make America Great Again, he said. It seems like while they were cutting things, they could have cut a few words out of that title.
He continued: The guy who has three oil paintings of himself in his bathroom wants to cut the National Endowment for the Arts.
Kimmel was equally incensed about the cuts to older people receiving food. Meals on Wheels are out, but dont worry the gold trips to Mar-a-Lago every weekend, those will not stop, he said.
Read more: https://www.theguardian.com/tv-and-radio/2017/mar/17/late-night-trump-travel-ban-budget-cuts-seth-meyers-jimmy-fallon